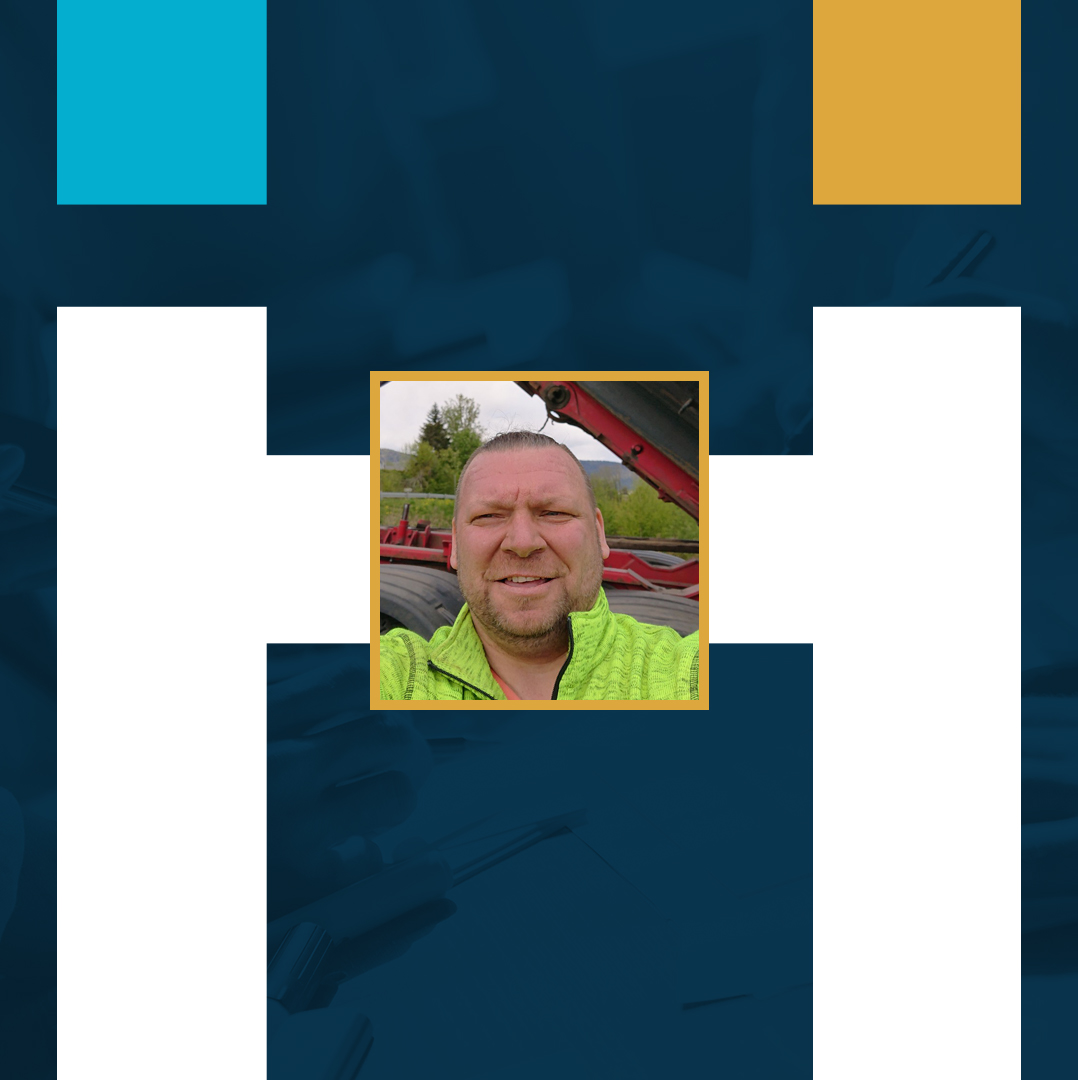 Marcin Z. (MZ01)
Marcin is experienced in working on mobile cranes and as a truck driver. In Poland he performed lots of tasks using cranes, as well as truck cranes. Previous employer described Marcin as a hard-working man who always fulfilled his tasks honestly and in a timely manner. Marcin feels experienced enough to take a managerial position. He owns category C driving license and G11 permissions. He is communicative and willing to cooperate. He works well on his own, as well as in a team.
Thanks to having worked as a substitute worker on a truck crane, he knows the basics of operating this machine. He is confident that he will perform well in a new job after receiving basic training. He speaks English and Russian well enough to communicate with employer and colleagues. He resides in Norway permanently and wishes to undertake long-term employment in this country.
Marcin only has a photo from his last job as a dump truck driver, since he did not take any photos during his previous projects.

Professional experience
TOTAL YEARS: 6
KM Anlegg AS

- Norway

as a

Loader driver
KM Anlegg AS

- Norway

as a

Loader driver - 2 weeks
Blachmet

- Poland

as a

Crane and forklift operator - 1 year
Lion Construction

- Poland

as a

Crane and forklift operator - 4 months
Budled

- Poland

as a

Construction site supervisor - 2 years
GROT

- Poland

as a

Construction elements assembly supervisor - 4 months
Meblopol

- Poland

as a

Warehouse manager - 3 months
PRIVATE ORDERS

- Poland

as a

Assembly crew foreman - 1 year 6 months
SOWKAM

- Poland

as a

Deputy manager - 1 year 2 months
Coffee Service

- Poland

as a

Driver - 5 months
SUPERVISOR / CRANE OPERATOR
Conducting construction of National Stadium
Operating a mobile crane during construction works such as assembling railings, fences and stairs
Operating a truck crane during transport works
Management, supervision and coordination of assembly works
Controlling timeliness and quality of performed works
Keeping in touch with designated services during projects
Preparing construction site documents
Working with technical documentation
Performing work health and safety trainings

Skills
Marcin is experienced with operating a mobile crane. He has also worked on a construction site of Polish National Stadium. Additionally, Marcin knows how to use computer software such as AutoCad, WF-MAG and MS Office. He knows how to operate a truck crane, and he has previously worked as a truck driver.
Marcin supervised the construction of National Stadium in Warsaw. It was an extremely responsible task, there were days when Marcin worked for 20 hours a day. The stadium was completed on time, allowing for the start of football matches without delay.
English - A2/B1
Russian - A2/B1
German - A1

Education
Technical school - Car mechanic
- Work health and safety course
- G8 and G11 permissions
- Category B and C driving license
- D number from 03.06.2020

Others
Marcin used to be an athlete - he trained rugby, martial arts and other contact sports. He is now interested in II World War and Polish history from period of Napoleonic wars. His grandfather took part in the Warsaw Uprising and this inspired Marcin to extend his knowledge in this field. Currently he enjoys sightseeing - his goal is to visit Ibiza, Thailand and Japan.
AGE


46

NATIONALITY


POLAND

MARITAL STATUS


Single